BLACK HILLS ORDNANCE DEPOT
COLONEL DON M. HOFFMAN
---
---
| | | |
| --- | --- | --- |
| Walrus | pages 1 & 5 | May 9, 1957 |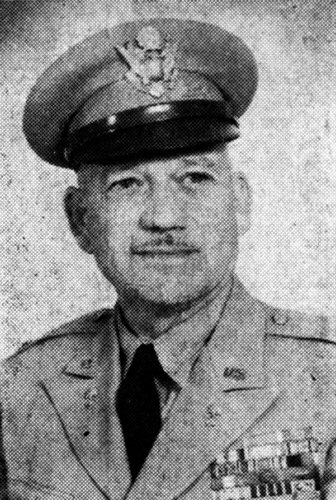 Colonel Don M. Hoffman
---
Col. Hoffman To Give Commencement Address at Provo High May 22
The Provo High School Commencement exercises will be held in the High School Auditorium, Wednesday, May 22, at 8:00 p.m. Colonel Don M. Hoffman, Commanding Oficer at the Black Hills Ordnance Depot will deliver the commencement address. Colonel Hoffman has been closely connected with school activities for many years. As a civilian he served as a school board member in California and in his capacity as a Army officer he worked with government connected schools in the United States and overseas.
Colonel Don M. Hoffman, is a native of California, where he completed his early education and graduated in Civil Engineering from the University of California. He served with the Corps of Engineers through the first World War. During the twenties Hoffman did some exploration and mapping in Alaska and Mexico, and later was a Sales Engineer, Highway Engineer, and Contractor. In 1931 he was back in the Army as a Captain for a five year period and returned to reserve status to become County Engineer in California.
A few years later the Second World War took him to Washington, as a Major in the Ordnance Corps where he was engaged in the construction and command of large war plants until 1943 when he attended the University of Virginia and the University of Wisconsin in connection with Military Government and languages. As a Lieutenant-Colonel he helped form the First Military Government Division in England, and upon the invasion of Normandy took command of the First Regiment of that Division with the rank of Colonel. Colonel Hoffman commanded this unit throughout the European War.
Again, in 1946 he left the army to engage in his own business as Consulting Engineer in Sacramento, California. Upon the advent of the Korean War Hoffman was called back into active duty to be Chief of the Facilities Program of the Ordnance Ammunition Center for the reconstruction of war plants for the Korean conflict. With the ending of the Korean War, he was sent to Europe to be Chief of the NATO program for the buildup of ammunition facilities of the NATO member nations. Just prior to taking command of Black Hills Ordnance Depot, he commanded the Captieuz Ordnance Depot in France for two years. Colonel Hoffman will retire from the U. S. Army in July, to return to his own business in California, where he is a registered civil engineer, and member of the American Society of Civil Engineers. Colonel Hoffman wears the Legion of Merit, Purple Heart, and Ordnance Commendation Medal and the decorations of five European nations.
---
---

tested in Internet Explorer 8

tested in Mozilla Firefox 3.5.7

tested in Google Chrome
1920 X 1080 resolution