Black Hills Ordnance Depot
Sick Leave
---
BHOD Press Release
DOZEN BHOD WORKERS BUILD UP FIFTEEN YEARS SICK LEAVE
Last week the WASHINGTON POST carried a feature article about a postal clerk in the capital piling up 3314 hours of sick leave.
Black Hills Ordnance Depot can boast of one empolyee with over 3000 hours and eleven with 2116 to 2986 hours of sick leave. These twelve have accumulated 15 years of security against pay loss due to illness.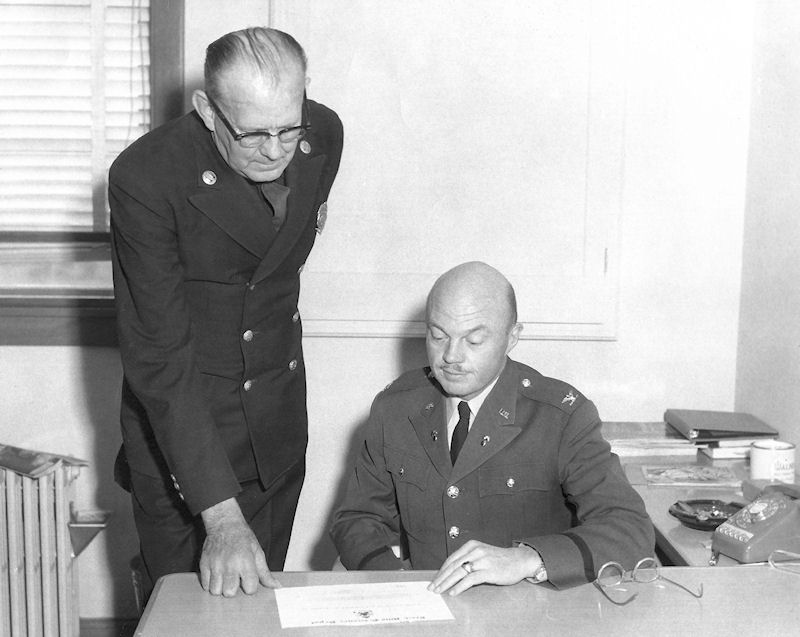 BHOD Firefighter William T. Holt receives certificate of achievement from Commanding Officer Colonel John R. Bailey, Jr. The veteran depot employee has been with the fire department for 19 1/2 years and has amassed a total of 3167 hours of sick leave.
Colonel Bailey said he was quite proud of the depot's record of having 123 employees, or 21 per cent of the total base complement, with more than 1000 hours of sick leave. All of these employees have received certificates of achievement and membership in the exclusive "Thousand Hour Club."
Holt feels that this accumulated leave is good "health insurance." If he is ever laid up with a prolonged illness the pay checks could keep on coming for over a year and a half.
"It's like car insurance, too" Holt said, "you may not use it but you certainly would not be without it."
---
---

tested in Internet Explorer 8

tested in Mozilla Firefox 3.5.7

tested in Google Chrome
1920 X 1080 resolution