BLACK HILLS ORDNANCE DEPOT
MAJOR FLOYD M. WHIPPLE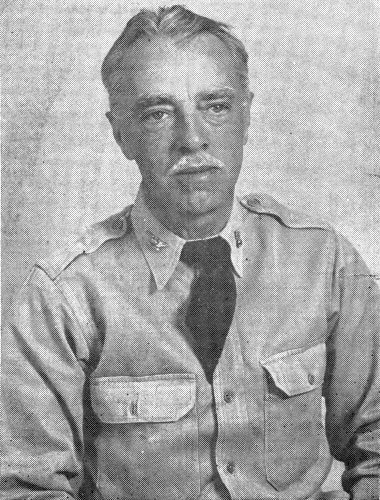 ---
---
| | | |
| --- | --- | --- |
| Edgemont Herald-Tribune | page 1 | April 13, 1961 |
---
Whipple Announces Retirement
After 30 years military service Major Floyd M. Whipple, Deputy Commanding Officer at Black Hills Ordnance Depot will retire on April 30, but will leave the Depot Saturday, April 15, terminal leave.
First assigned to BHOD as Assistant for Supply Operations in Aug. 1956, Major Whipple became Deputy CO in Oct. 1957 and took command at the Depot for the two month interim between the retirement of Col. L. R. MacAdam and the arrival of the present commander Col. John R. Bailey, Jr.
A native of Ottumwa, Iowa, the Major's first military service was with the Iowa National Guard Calvary. A First Sergeant when his unit was ordered to active duty in January 1941, he was ordered to Officers Candidate School at Aberdeen Proving Grounds, Maryland in July 1942.
After various assignments as Ordnance Officer attached to multi groups in the States. Major Whipple's first overseas duty was in New Guinea. He served during the New Guinea Campaign; at Beak Island and the Okinawa Campaign.
During these periods of duty he earned the following service ribbons; Asiatic Pacific Campaign Metal with five bronze stars; Philippine Liberation Ribbon with one bronze star as well as the American Theater ribbon, Victory Occupation Ribbon and the Philippine Independence Ribbon.
Following the war and a tour of duty at Camp McCoy, Wisconsin he returned to the Far East for two years where he served as Commanding Officer of an Ordnance Depot Company both on Luzon, P. I. and Okinawa.
For five years he was Ordnance Technical Advisor to the Senior Army Instructor, Wyoming National Guard and was then given a overseas assignment in France for three years.
During this tour of duty at Trois Fontaines his duty assignments were: Assistant of Supply Operations; Commanding Officer of Storage Company; Commanding Officer Headquarters and Service Company, Station Complement Detachment and Security Officer.
Major and Mrs. Whipple have a son, who is making a career in the Navy, a married daughter and two grandchildren.
The Whipple's will make their home-in-retirement Ogden, Utah.
---
---

tested in Internet Explorer 8

tested in Mozilla Firefox 3.5.7

tested in Google Chrome
1920 X 1080 resolution