BLACK HILLS ORDNANCE DEPOT
HILBERT BRAVE
---
Dec. 12, 1957 CWC candidate; Hilbert E. Brave; Hilbert Brave, better known as "Jug" Brave, has been a sport enthusiast since he first came to BHOD in 1945. He is working here now as a Heavy Equipment Operator. In 1950 he was awarded the Exceptional Civilian Service Award for his part in clean up and rescue operations following an igloo explosion. He is a graduate of the Rosebud Mission High School and a WWII veteran.
---
Hilbert Elmer Brave
"Jug"
1918-2002
Now he rides with the wind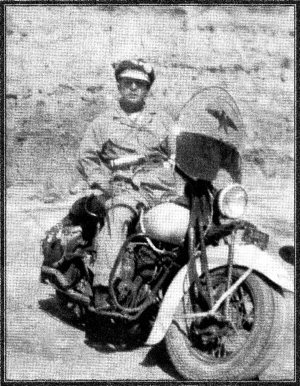 Hilbert was raised by his grandparents George and Millie Brave Boy. They lived at Bad Nation on the Rosebud Reservation. He attended Rosebud boarding school, grades 1-5th. They used to dress them in old Army uniforms and march them around like at boot camp. His grandparents would come see him about once every two months by horse drawn wagon.
He went Rapid City Indian school 6-8th grades. Not many children were chosen to go to school here. He participated in numerous sports there. His high school years were at Santee Normal Training School, Santee, NE. This is where he spent his most enjoyable life. He was assigned to the dairy barn for work detail. His popularity earned him his own room. He made friends with the superintendent and his wife and worked for them. His wife would take him to the basement and give him a choice of clothes. They did not have a basketball gym so practices were outdoors. The basketball team went undefeated for 22 straight games and the 23rd game was for the class B finals in Nebraska. They beat A teams like Sioux City, and North Fork. His team members were: Homer Merian, Dick Mckenzie, Flix Knife, Stud Peoples, and Harold Good Boy. They closed the school after his sophomore year. He went back to Rosebud Community High School where he graduated in 1938. In 1938-39 he entered the Civilian Conservation Corp. He worked all over the Rosebud reservation as a timekeeper, and later a heavy equipment operator.
In 1940 he enlisted in the army, completed basic training at Fort Douglas, Utah and spent a year there. He was stationed at Fort Robins, Calif. and trained as a cadre. He then was assigned to the 94th Division at Tenn., Kansas, Miss., and NY. He went to Scotland and then to South Hampton, England where they were supplied for D-Day. Two weeks after D-day he went to France, Omaha Beach. Elmer served in General Patton's army in Germany and Czechoslovakia and fought in the Battle of the Bulge. He returned to civilian life in the U.S. and was employed by the Black Hills Army Depot at Igloo in 1945. Jug worked there until 1964. He was awarded a medal for bravery for rescuing six men after an explosion. From 1964-68 he transferred to the Pueblo Army Depot due to the closing of the Igloo depot. During 1968-75 he was assigned to the defense attache office at MacV Headquarters in the Republic of Vietnam. In 1975 he was forced to leave due to the fall of South Vietnam. He returned to the Pueblo Army depot where he retired after 32 years of service.
Jug moved to Victorville, CA during 1976-78 where he was employed as an Assistant Golf Superintendent at Silver Lakes Golf Course. He returned to Rapid City in 1978 and lived a comfortable retired life.
---
---

tested in Internet Explorer 8

tested in Mozilla Firefox 3.5.7

tested in Google Chrome
1920 X 1080 resolution