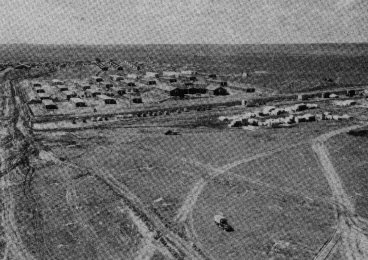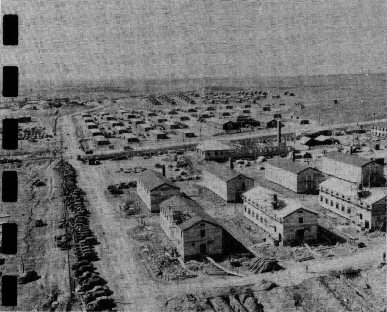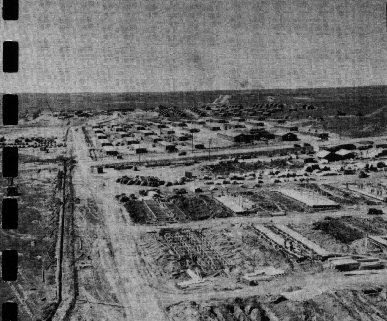 facilities at B. H. O. D. were long tar papered barracks with a row of cots down each side, housing from 50 to 100 men each. A large construction crew employing 75 to 100 "cats" and scrapers was building miles of road throughout the area. As fast the roadbed was constructed , a fleet of 450 gravel trucks were busy throughout the day and night hauling gravel from a pit four miles north of Edgemont for stabilization purposes.
By the middle of September, 1942, the principal work was completed and many contractors were moving on. Minor contracts were being let for housing, utilities, and the like. The Ordnance Department took over on April 6, 1942, with Major Curtis as the first Ordnance Officer and the first Commanding Officer. Major Rice arrived on September 22, 1942, to become the first Post Engineer, whose duties were to organize and establish the Utilities Division.
The first headquarters for the Ordnance and Post Engineers was in Barracks No. 110. Among the first employees to be hired by the Post Engineers were Stewart Mickelson, Chester Cahoe, Ben Geary, "Monty" Nystrom, Ralph Cypher, Mildred Purcell and Carol Goddard. Some of the first Ordnance Employees were Lee Johnsonbaugh, William Freund, Fred Schmitt, Tom Cubins, Fred Wheeler and Walt Herbert.
During the summer of 1943 many homes were constructed; trees and lawns were planted. Later a fine school, a Child Welfare Center and a Community Building were constructed. Sidewalks were laid, streets were hardsurfaced and B. H. O. D. became a bright spot on what was formerly a prairie desert.
WATER FOR IGLOO
During the early construction days no drinking water was available on this area. Water for drinking purposes was hauled by truck from Edgemont and Hot Springs and by railroad in tank cars from Belmont, Nebraska. Some shallow wells and cisterns existed at Provo but the supply was very limited and at one time this water sold for 10 cents per gallon.
March 26, 1942, a contract was let for drilling deep well No. 1. Actual drilling operations began April 4, 1942, and was completed June 6, 1942, at a depth of 4,000 feet. Due to the water being hot, 140° F, it had to be cooled to make it palatable for drinking, which was accomplished by electric refrigerator bottle coolers; and for mixing concrete it was sprayed into open ponds to cool it sufficiently. Later a water treatment plant was constructed, where the water was softened and cooled, permanent water mains and services were laid and concrete storage tanks constructed, making the complete water system that we now have. Later a second well was drilled and the water plant enlarged to insure ample water for all future needs.