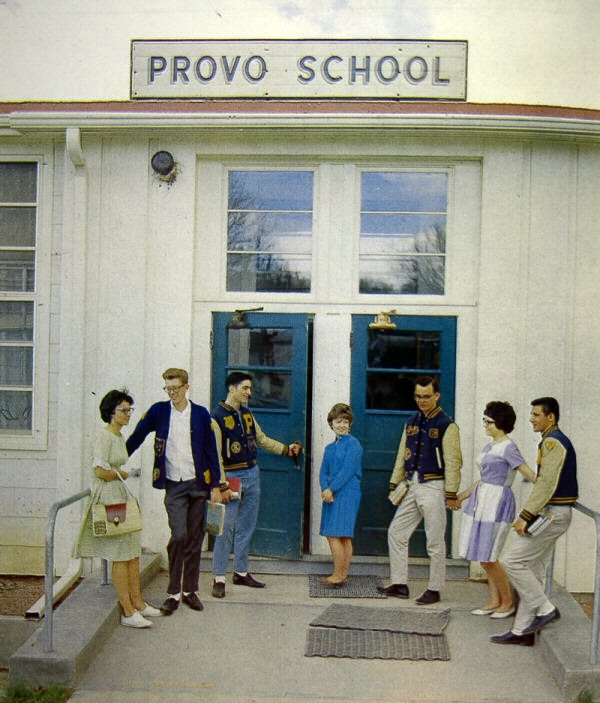 PROVO HIGH SCHOOL
---
PREP PARADE
WITH BRUCE CONLEY
Argus-Leader Sports Writer
THE 1966-67 BASKETBALL season may well be the last for one of the state's winningest basketball teams.
Provo, with an enrollment of 34, will undoubtedly close its doors at the end of the current school year.
The phase-out of the Army depot at Provo is mainly responsible for the enrollment drop.
In the fall of 1943 George Bain, currently Provo's principal, started the first Rattler basketball team with all underclassmen participating. By the time these first cagers had become juniors, the Rattlers were a successful team and a tradition had been established.
At the beginning of the current season, Provo had piled up 351 victories against 174 losses, had captured 12 district titles and three region crowns in Class B action.
The Rattlers have never won a state Class B championship, but were consolation champs one season, runners-up and have a sixth - place finish to their credit.
Against tradition rivals Edgemont, Hot Springs, Pine Ridge and Custer, Provo has a won-loss record of 137-63.
Provo also has established a fine record against Class A schools. Against the larger schools, the Rattlers have an 86-57 slate.
Provo has never lost less than 5 games in any one season, due to a tough schedule that takes the Rattlers from Cheyenne, Wyo., to McLaughlin. The Rattlers hold wins over both Canistota and Pine Ridge in regular season games when those two cage powers went on to claim Class B tournament titles.
Going through coachers' records at Provo, Jack Eklund spent four years at the helm and had 90 wins against 20 losses.
Gordy Syverson, currently guiding the Rattlers, has an 83-34 record in five years, Vic Garvis posted a 107-67 slate in seven years. Chuck Gustafson was 17-9 in one season. Dick Hagerty 14-8 in one season, Dale Tangeman 21-13 in two years and Bain 19-23 in three seasons.
On the gridiron, Provo has a 71-96-7 record in 23 years.
Some of the top players that appeared in Provo uniforms include Dan and Herb Goodman, Dave Geary, Tom Veren, Francis Rose (who later coached at Edgemont and Lusk, Wyo.), Norm Wilson (who starred for Chadron), Duane Hedland, Ted DeLeon (outstanding gridder at Southern), Cedric Goodman, Mike Hicks, Jess Sears, Wayne Hoffer (playing basketball and football at New Mexico State), Louis Schmidt, Henry LeBeau and Tom Mudge.
In more recent years, Duane Varilek, Larry Lathrop, Dick and Dave Sebring, Jerry Sears, Woody and John Hipsher, Tom Shortbull, Norm Smith, Curt Weisz, Pat Hicks and Larry O'Connor have also been Rattler standouts.
Players who started at Provo but now are playing at other high schools include Leonard Johnson, Sacramento, Calif.; Tom Gaebler, Paris, Ky.; Gary Schiffner, playing in Texas; Dave LaPlant, Hermiston, Ore., and Francis Jacobs, playing in Utah.
Dick Raben's Provo track team won the Region Eight, Class B title three times as did Ecklund's thinclads. Tom Veren once held the state Class B low hurdles mark.
---
---

tested in Internet Explorer 8

tested in Mozilla Firefox 3.5.7

tested in Google Chrome
1920 X 1080 resolution