BLACK HILLS ORDNANCE DEPOT
MEN'S BOWLING
---
---
---
The Igloo Magazine
| | | |
| --- | --- | --- |
| Vol. X No. 23 | pages 7 and 8 | June 6, 1947 |
MEN'S BOWLING LEAGUE

Prize Money Awards
Total Money received - - - - - - $540.00
Salary, Sec.-Treas. - - - - - - - 50.00
Individual prizes per quarter - - 27.00
Bank checking account PAYC - - - - 1.00
Bal. divided as prize money - - - 462.00
(1773 total team points less 147 forfeit points leaves 1626 team points, which divided into $462.00 equals $0.2841 cents per point.
Team Points Amount


---
---
The Walrus
| | | |
| --- | --- | --- |
| Vol. 2 No. 13 | page 4 | March 27, 1953 |
BHOD Bowling
Men's Team Standings
| | | |
| --- | --- | --- |
| Team | Won | Lost |
| Wades | 20 | 4 |
| Officers | 16 | 4 |
| M & M | 15 | 9 |
| Surveillance | 15 | 5 |
| Wobblers | 14 | 10 |
| Dunderheads | 13 | 11 |
| Concessionaires | 13 | 11 |
| Post Engineers | 13 | 7 |
| Administration | 12 | 12 |
| Security | 12 | 8 |
| Vets Club | 12 | 8 |
| Buccaneers | 11 | 9 |
| Nite Owls | 10 | 14 |
| School Dads | 7 | 17 |
| Personnel | 5 | 19 |
| Gas Eaters | 4 | 20 |
High game - McCowan, 238
High average - Parmenter, 176
High series - Smith, 630
---
The Walrus
| | | |
| --- | --- | --- |
| Vol. III No. 15 | page 1 | April 9, 1954 |
Administration Wins In Men's League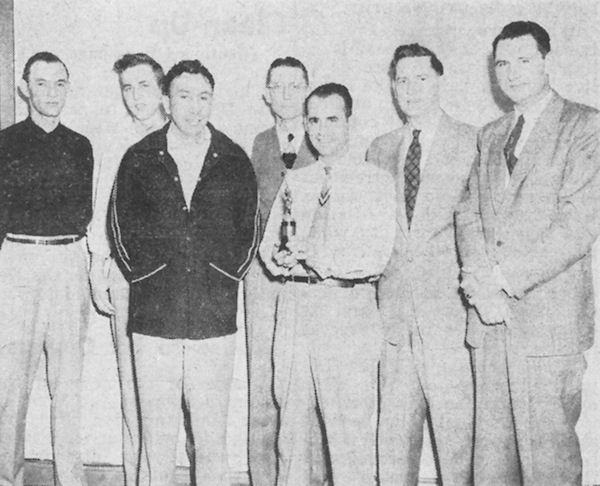 The Administration team of the men's Bowling League copped first honors for
the '53-'54 season with a total of 68,178 pins and an average of 874.
With 13 teams in the league the headquarters keglers won over some tough competition.
Pictured above are the champions, Ken Hertha, Ron Hagen, Frank Vermillion, Bill Ottmann,
Kilburn Hicks, holding the hard-earned trophy, Frank Begert and John Sweeney.
The Post Engineers finished second and Combat wound up in the cellar.
---
Dec. 1957; teams; Buckingham, Carters service, Sally Ann, Standard Service, Roads and Grounds, Inspectors, BHOOM, Manglers, Larry Cleaners, Mines Development.
Individuals; Beauvais, Brave, Morrison, Mickelson, P. Wheeler.
---
---

tested in Internet Explorer 8

tested in Mozilla Firefox 3.5.7

tested in Google Chrome
1920 X 1080 resolution