BLACK HILLS ORDNANCE DEPOT
JR-JR BASEBALL
---
---
The Walrus
| | | |
| --- | --- | --- |
| Vol. I No. 36 | page 2 | Sept. 12, 1952 |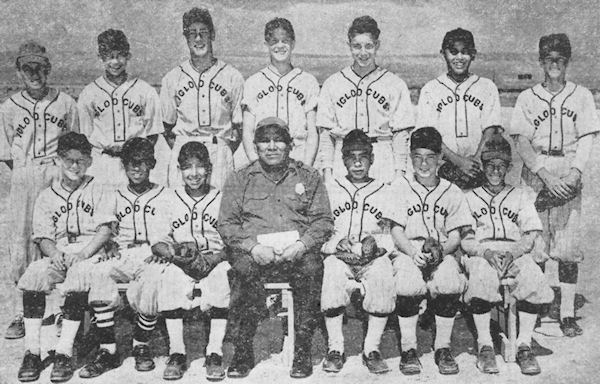 Pictured here are members of the Junior-Junior Baseball Club whose overall record for the season shows six wins against five losses.
Seated, left to right - R. Hedland, T. DeLeon, Eastman, Van Goodman, Manager and Coach; J. Shaw, Chet Anderson and L. Schumacher.
Standing - Gibbons, R. Giago, V. Olmstead, J. Cork, Clarence Anderson, H. Goodman and W. Krumholz
---
The Walrus
| | | |
| --- | --- | --- |
| Vol. III No. 37 | page 2 | Sept. 10, 1954 |
Igloo's Junior-Juniors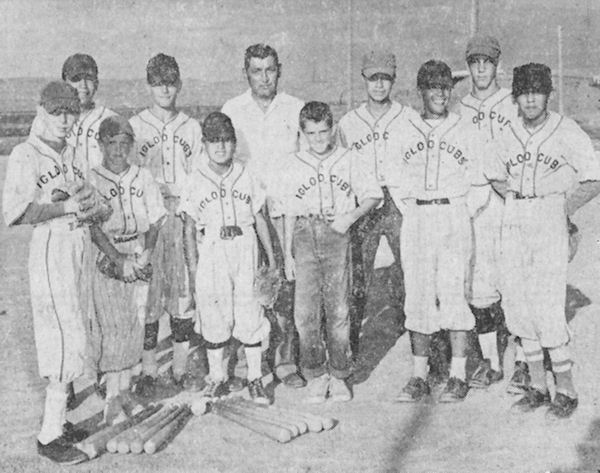 Pictured above is the Junior-Junior baseball team, which is sponsored by the local VFW Post.
The group fielded an inexperienced team this year and had six losses against one win in league play.
However the kids showed a lot of spirit and all but one will be returning next year.
Team members and the positions they held are, back row, left to right: Calvin Jones, 1b; David Bauer, rf;
Frank Fastwolf, coach and manager; Filbert Montileaux, p; Harold Peterson, 3b; Roger Fryett, rf;
David Calvert, 2b; Henry LeBeaux, c.; Walter Calvert, lf; George Flammond, cf and Cedric Goodman, ss.
Team members not present when the picture was taken are Daniel Benoist, p; Billy Coen, cf; and Bill Lessert, rf.
---
The Walrus
| | | |
| --- | --- | --- |
| Vol. IV No. 33 | page 2 | Aug. 19, 1955 |
Igloo's Prospective Big Leaguers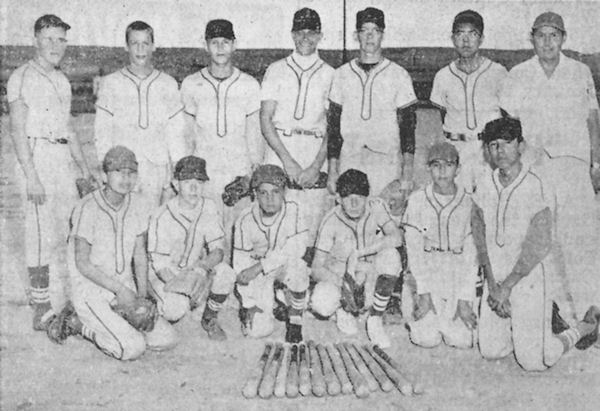 Pictured above is the 1955 edition of the Jr-Jr Igloo Baseball team.
Left to right, front row, Larry Nelson, CF; Gordon Dean, 2B; Mike Tribble, pitcher; David Bauer, 1B; Eugene Peterson, catcher;
Billy Lessert, RF; Frank Fastwolf, coach and manager. Back row, left to right, Johnny Tassel, LF; Maynard Aadson, LF; Henry LeBeau, RF;
Raymond Eck, 2B; George Boltz, CF; and Cedric Goodman, SS. The team split their twelve game summer schedule, winning six and losing six.
In league play opponents were Hot Springs, Edgemont, Hill City, Custer, Lusk and Douglas.
---
The Walrus
| | | |
| --- | --- | --- |
| Vol. V No. 30 | page 1 | July 25, 1957 |
Igloo Jr.-Jr. Baseball Team Wins Region Six Crown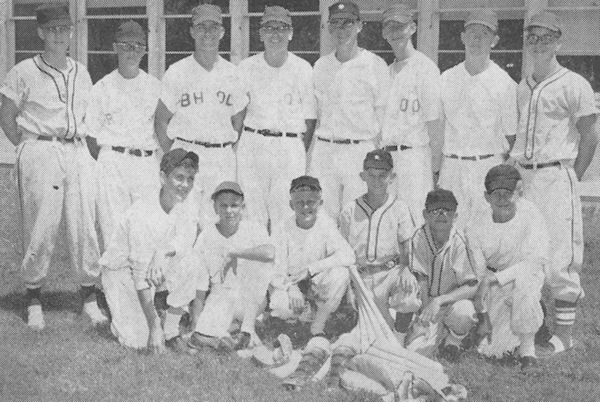 PICTURED ABOVE is the Igloo Jr.-Jr. baseball team who copped the Region Six Championship with a 5-1 victory over Custer at Hot Springs, last Saturday.
Standing left to right are: Dean Sampsell, coach; Mike Tuma, David Bauer, Gary Olson, Larry Nelson, Ray Eck, Russell Bohart and Eddie Olmstead.
Kneeling left to right are: Jim Blette, Terry Stuen, D. Sebring, Larry Lathrop, bat boy; Tommy Beuchler and R. Sebring.
Not pictured are Mike Hicks, Charles Bush, Jack Sinclair, Royel Odell, co-coach and recreation director; and Jim Coffee, bat boy.
(Photo by Schuler.)
---
---
---

tested in Internet Explorer 8

tested in Mozilla Firefox 3.5.7

tested in Google Chrome
1920 X 1080 resolution