BLACK HILLS ORDNANCE DEPOT
OLYMPIC COMMISSARY
The Black Hills News; 7/23/1942; pg. 4, col. 2; Terteling News; by Virginia Robertson
The commissary now boasts of young ladies to wait tables in the north dining room.
---
---
The Walrus
| | | |
| --- | --- | --- |
| Vol. 1 No. 18 | page 3 | May 9, 1952 |
Early Days At Provo

by Archer B. Gilfillan

I had heard various things about the food at Provo, and I can only say that after five years of eating in a cafe attached to a hotel, I still like the food here. For breakfast the morning after I arrived we had cereal, bacon and eggs, bread and coffee. That kind of a meal would cost fifty-five cents at restaurant prices and I have never been able to afford that much for breakfast. There is no question of "seconds" here. The food is served "country style" and you can have as much of anything as you wish. The meals are thirty cents straight, and only because they are served in such immense quantities can they be of such high quality. For one meal, at the peak, four thousand customers were served. Last Sunday I went to a neighboring town and paid seventy-five cents for a dinner that did not compare with what I would have had at camp. Nor is there any monotony in the meals. Each one is different and all are well cooked.

The four immense mess halls, each seating from eight to twelve hundred, jut out from the kitchen like the spokes of a wheel. When one mess hall has filled, the doors are locked - no fooling with this outfit - and the steady stream of customers is directed into the next one; which, when filled, is locked in turn. By the time the first mess hall is reached again, the tables have been reset and all is ready for business.
---
The Walrus
| | | |
| --- | --- | --- |
| Vol. 1 No. 18 | page 6 | May 9, 1952 |
Pictures Show Progress Of Construction At BHOD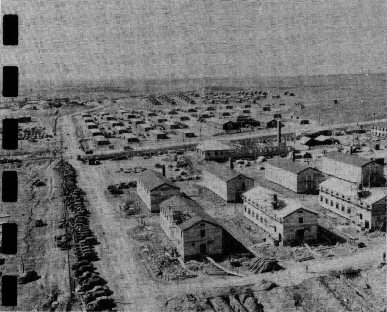 The long buildings located in the present 200 and 400 blocks were dormitories, each housing from 50 to 100 workers. The grade of the dam to the left of Custer Road, where it curves to the right, is still located between the 1000 and 1100 blocks. The building half way up the hill on Rushmore Road, where four-plex 204 is now located, was the Olympic Commissary, principle mess hall for workers.
---
The Walrus
| | | |
| --- | --- | --- |
| Vol. 1 No. 18 | page 10 | May 9, 1952 |
Looking Back - - -
Probably the most important construction period was the Olympic Commissary which at one time operated three large dining rooms to accommodate the thousands of construction workers. No one who has had the "pleasure" of eating at the Olympic can forget the aroma of cabbage as you entered, the gymnastics one must go through in climbing over the planks to get seated, and the ever present bread pudding with the varied colored sauce to serve as a camouflage - a differant color for each day of the week - but the same old pudding underneath. Between twelve and fifteen thousand meals were served each 24 hour period.
---
---
---

tested in Internet Explorer 8

tested in Mozilla Firefox 3.5.7

tested in Google Chrome
1920 X 1080 resolution