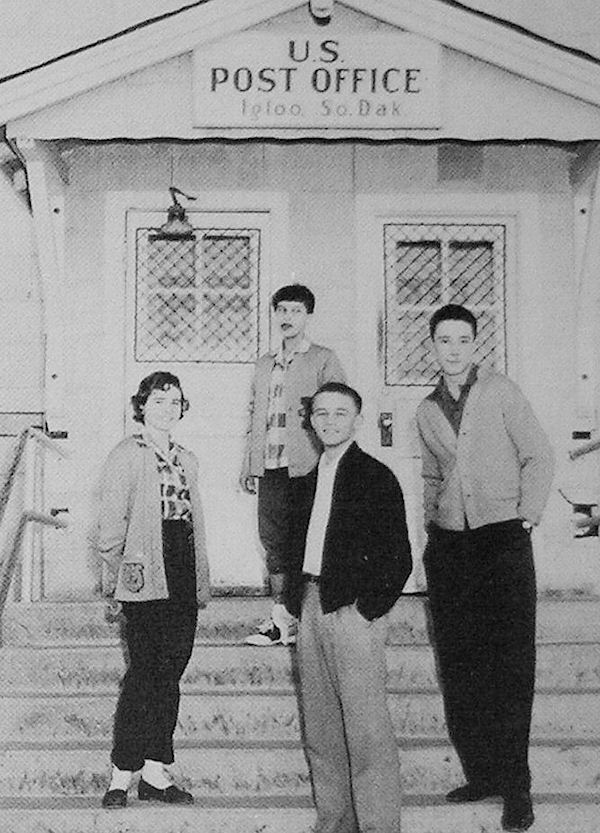 BLACK HILLS ORDNANCE DEPOT
POST OFFICE
IGLOO, SD
---
| | |
| --- | --- |
| The mail was originally delivered to a PO Box (92) in Provo. Then it was dispensed from the PX and later from what became building #100. When the community building was finished mail was dispensed from the counter in the main lobby. This counter was latter replaced with two walls of PO boxes. | |
| Finally the bottom floor of barracks #110 (minus the bath and heater rooms) was converted into a post office and was in service for many years until the depot closed. They had a U shaped wall of PO Boxes. (probably close to 1000 boxes) | |
---
The Black Hills News; 7/23/1942; pg. 4, col. 1; Terteling News; by Virginia Robertson
The Post Office in the post exchange building opened July 18. This will be open for business between the hours of 8 a.m. and 9 p.m. Miss Ruth Van Flossen and Ardman Schneider will be in charge of the mail distribution.
Current mail, for three days, will be in the usual box in the mail room. Mail which hasn't been called for promptly, together with packages and newspapers, will be in the postoffice.
The postoffice, for the purpose of accommodation, will supply postage stamps and penny postcards.
It is requested that employes who desire to get their mail at the postoffice use the address, and particularly return address, or Care of J. A. Terteling & Sons, Edgemont, S. D.
---
Postmasters;
Fred Coates, Geneva Hall, Mildred (Hardman) Kutzor
---
---
The Walrus
| | | |
| --- | --- | --- |
| Vol. 2 No. 5 | page 6 | Jan. 30, 1953 |
In The Post Office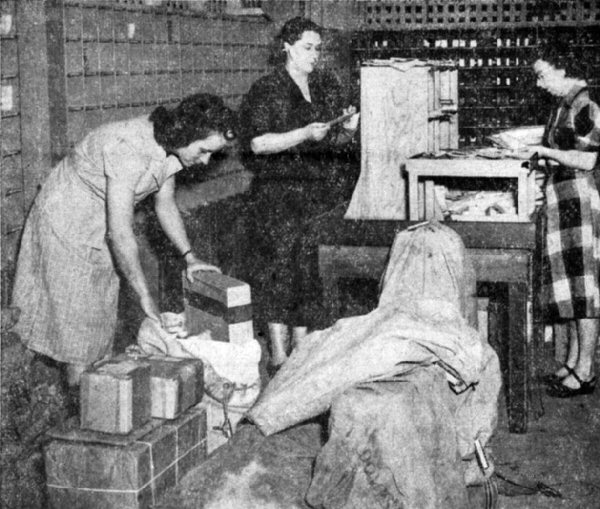 Post Office employees going over the average morning's incoming mail are, from
left to right, Kathryn Richardson, Mrs. Geneva Halls and Pauline Armstrong.
by "Torky"
The most visited place on the Depot is the Post Office. People drop in on arrival and just before they leave, and they check for mail after every train. The unknown has its allure and who can tell what the little old post office box will bring forth? It might be a big, fat letter from Aunt Nellie, a "having a wonderful time, wish you were here" picture post card from the tourist friend, a nice fresh "wish" book, a new magazine to while away the hours instead of doing what you should, or a package in remembrance of the birthday you were trying to forget. It might even be a window envelope with a personal message stating "Balance due us is ----." Be it good or bad, getting the mail is most important. Who knows, this might be the day you hear that your great, great Uncle Ebenezer, long dead and gone has left you a small fortune. There is no peace of mind until you have gone to the Post Office and checked for yourself. And what a let-down when an empty box meets the eye! If there is anyone in the vicinity to witness your chargin, you quickly try for a recovery like "Johnny must have picked up the mail," and you wish desperately you had left that circular on Training Fleas in the box yesterday so that today you have something to carry out! The only thing more disheartening than an empty box is one with a lone little card which bellows out in big black letters, "BOX RENT DUE."
A post office is classified according to its stamp sales and box rent. Igloo was listed as second class in 1944 but reverted back to third class in 1950. However in 1951 it regained its second class rating which has been retained to the present time. The box rent and stamps sold amounted to $11,121.00 the past year.
Although no accounting is made of actual number of pieces of mail handled, it is known that 1454 registered letters, 922 insured packages and 20,899 mail orders were processed last year. Seven hundred and twenty-three boxes are being rented. because of the nature of this particular community, a great deal of franked mail is handled, $3500 worth of stamps were sold during the December quarter, a great amount considering that every stamp must be accounted for at all times.
This tremendous job is the responsibility of Mrs. Geneva Halls, Acting Postmaster, with the help of two regular clerks and three substitutes. Kathryn Richardson and Deloris Clapham have been employed since July 1944 when the post office was moved from Provo. Pauline Armstrong, Lenore Gaebler and Elizabeth Britts are on a standby status and work when the need exists. Final member of the organization is Freddie Coats who as messenger, transports the mail to and from the station at Provo.
Igloo does not provide for special delivery service. However, when a package of a perishable nature like flowers for Mother's Day or that chicken or roast from home, Mrs. Halls' big heart takes over and she makes the delivery herself. The force also works Sundays and holidays to insure prompt service.
At the last official inspection this post office was graded 95 and one half percent. Based on accuracy and completeness of records, this is the highest grade ever received by this post office. Mrs. Halls is justly proud of this distinction.
She is appreciative of the cooperation given by the Department of the Army since she has been in office. The building has been cleaned and newly decorated, and the Mail and Records section has been most considerate in their dealings.
When things go wrong, it is the tendency of us mere humans to blame someone. Thus when the train is late and we don't get our mail, we want to "take it out" on the postal worker. Let's remember they aren't just "playing post office" but doing the big job and doing it well.
---
The Walrus
| | | |
| --- | --- | --- |
| Vol. 5 No. 29 | page 1 | July 18, 1957 |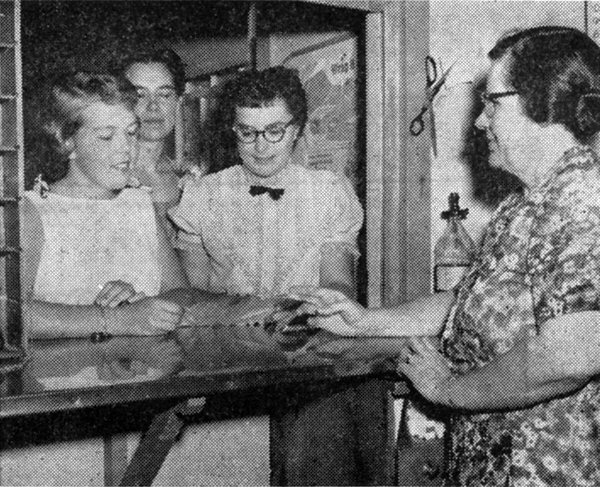 MRS. GENEVA HALLS, Postmistress, sells the first "Teacher" stamps to members of the
Adelaide F. Ward Future Teachers of America Club of Provo High School. This stamp
commemorates the 100th anniversary of the National Education Association. Pictured are
G. Halls, making the sale of 50 stamps to Judy Heer, FTA songleader: Helen Barney, sponsor:
Darlene Olmstead, State FTA Dicector, representing the 25 members of their local FTA club.
---
How Igloo was named.
under construction
---
Fall River County Pioneers; page 318; Provo, named for William Provost, was established June 6, 1904, discontinued Jan. 2, 1907, re-opened Oct. 26, 1909. Its postmasters were William H. Garwood, June 6, 1904, Ursa Smith Jessup, May 26, 1906, George D. Monroe, Oct. 26, 1909, Henry Kraemer, Nov. 9, 1910, Iva L. Robinson, Dec. 17, 1913, Iva L. Dunbar, Feb. 3, 1914, Marcus S. Dunbar (acting) Dec. 2, 1929, James N. Brennan, May 15, 1930, Iris L. Hart, July 22, 1937, Fred Coates, July 28, 1939, Bessie E. Jackson, July 1, 1944. Freda Tillotson, April 11, 1946, Louisa DeLeon, March 31, 1961, Lanoir R. Pedersen, Feb. 1, 1975.
Igloo served the Black Hills Ordnance Depot from July 1, 1944 to April 7, 1967, after which the mail was sent to Provo. Postmasters were Fred Coates, July 1, 1944, Geneva Halls, Jan. 31, 1952, Mildred Kutzor, officer in charge Jan. 1, 1967.
---
---

tested in Internet Explorer 8

tested in Mozilla Firefox 3.5.7

tested in Google Chrome
1920 X 1080 resolution