BLACK HILLS ORDNANCE DEPOT
FIRE DEPARTMENT AND SECURITY GUARDS
---
The BHODian
---
| | | |
| --- | --- | --- |
| BHODian | page 40 | April 1945 |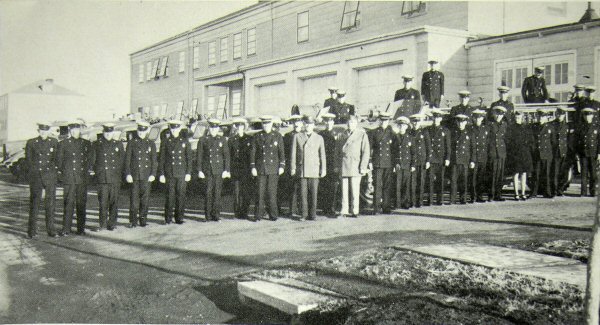 THE FIRE DEPARTMENT
Safety and Security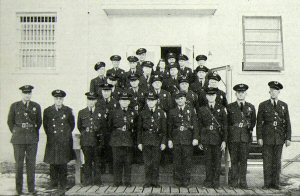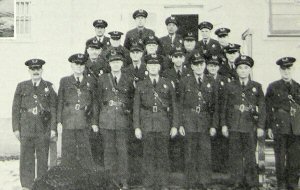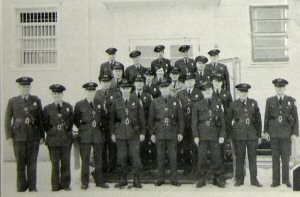 GUARD FORCE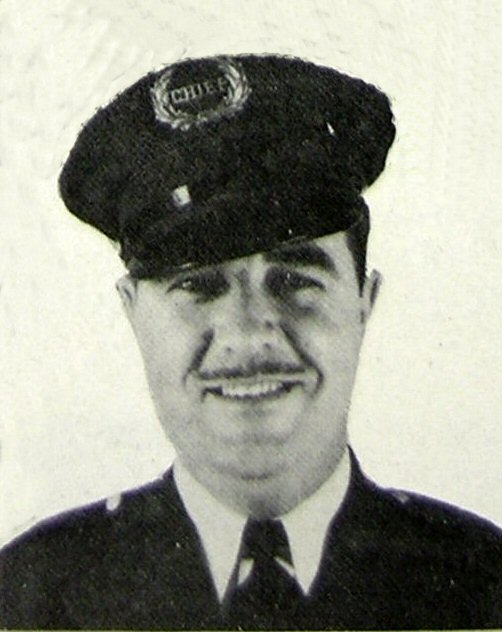 CHIEF MARSH, ON DUTY EVERY DAY SINCE APRIL, 1942
---
---
| | | |
| --- | --- | --- |
| BHODian | page 41 | April 1945 |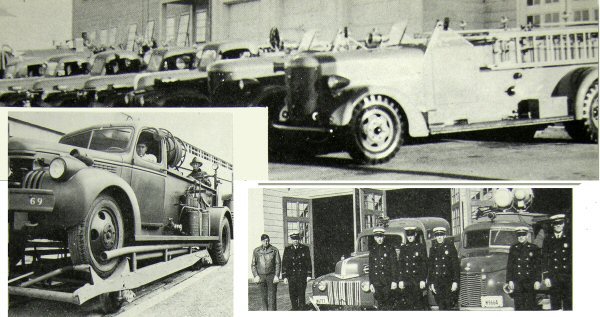 RAILWAY FIRE TRUCK ----------------- ABOVE -- THE ORIGINAL 6
BELOW -- THE ORIGINAL 2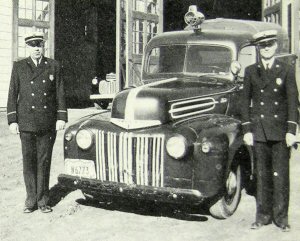 THE FIRE DEPARTMENT
The Fire Department was organized April 1, 1942, under the U. S. Engineers, with offices located on the stage in the Armory Building, Edgemont, S. Dak., where it remained until moved to the Depot May 22, 1942, occupying a space approximately 10 ft. square in the southwest corner of Bldg No. 3, now occupied by the Post Engineers.
Estimates for fire fighting equipment were prepared and submitted for approval immediately. Within a short time contracts were let and submitted for approval immediately. Within a short time contracts were let and construction work started. In order to provide immediate fire protection, a 1/2 ton pickup equipped with hand fire extinguishers and small tools was transferred from Fort Peck, Montana. Barrels were secured from merchants in Edgemont and Hot Springs, filled with water, and placed near buildings under construction for use in case of fire.
On the 29th of May a temporary fire truck which had been designed by the Fire Chief and constructed by the members of the Department was placed in service. This truck was equipped with a 300-gallon-per-minute pump attached to a tank containing 110 gallons of water and 200 feet of 1 1/2 inch fire hose. This piece of equipment was capable of delivering a stream of water within fifteen seconds after reaching a fire and was used successfully until the arrival of regular fire equipment during the fall of 1942.
During the early construction period no water other than that hauled by tanks was available and often times during the wet spring it was almost impossible for an ordinary vehicle to navigate. It was realized immediately that road and water conditions being as they were, a strict program of fire prevention would have to be initiated. Fire fighting personnel were trained in fire prevention work and a continuous inspection of all buildings was carried on twenty-four hours a day. Any hazardous conditions found were reported immediately to the contractor or department involved and corrective action taken. By adoption of a stringent fire prevention program, the loss from fire during the construction period was kept to a minimum.
By the fall of 1942 new standard fire fighting equipment had arrived, water systems were in service and roads were hard surfaced. This naturally raised the efficiency of the fire fighting forces; however, the fire prevention program was continued and improved as time went on.
The Fire Department today, in addition to the protection of Government property, considers the safety and welfare of the people working and residing at the Depot. Firemen are trained to be able to assist in any emergency and are available for immediate service twenty-four hours each day.
The Fire Department points with pride to the record that since the beginning of B. H. O. D., there has been no loss of life or serious accidents due to fires, and that loss of property from fire has been kept to the minimum. We believe the main reason for this record is due to the splendid cooperation of the Military Division Heads, Contractors, Boy Scouts, and other organizations, and in fact all employees and their families in assisting with the fire prevention program.
The most recent example of cooperation is an oxygen resuscitator, which will be available in a matter of seconds to anyone who may require artificial respiration. This piece of equipment is being purchased by the people of the Depot through their Welfare Association and will be operated by the Fire Department.
It is the policy of the Ordnance Department that all Ordnance Depots are completely equipped with the latest and best of fire fighting equipment and the firemen are thoroughly trained and continually on the alert for any eventuality.
Continuous and intense training programs are being carried on, to bring the best and latest fire fighting techniques to the personnel.
---
---

tested in Internet Explorer 8

tested in Mozilla Firefox 14.0.1

tested in Google Chrome
1920 X 1080 resolution