BLACK HILLS ORDNANCE DEPOT
ADMINISTRATION AND SERVICES BRANCH
---
---
---
Igloo Magazine
| | | |
| --- | --- | --- |
| Vol. 4 No. 21 | page 5 | June 2, 1944 |
Fifth War Loan Drive
The Fifth War Loan Drive will start officially at this Depot on June 1, 1944, and end on July 31st. Following is a list of the Supervisors and Minute Men of the various divisions who will conduct this 5th War Loan campaign:
Administrative: Supervisor, W. O. Freund; Minute Men, Communications Branch (including Fiscal Division and Control Branch), Blossom Mason; Fire Prevention Branch, Loren J. Bingham; Security Branch, Joseph Marsh, Sidney Manery; Depot Property and Procurement Branches, Royal L. Kozel; Service Branch, Gordon Campbell, Bessie Lee.
---
---
| | | |
| --- | --- | --- |
| BHODian | page 3 | April 1945 |
The Ordnance Department took over on April 6, 1942, with Major Curtis as the first Ordnance Officer and the first Commanding Officer.
---
| | | |
| --- | --- | --- |
| BHODian | page 6 | April 1945 |
Administration
| | |
| --- | --- |
| | |
| COLONEL CAMBRE 1945 - | COLONEL KEASLER 1944-45 |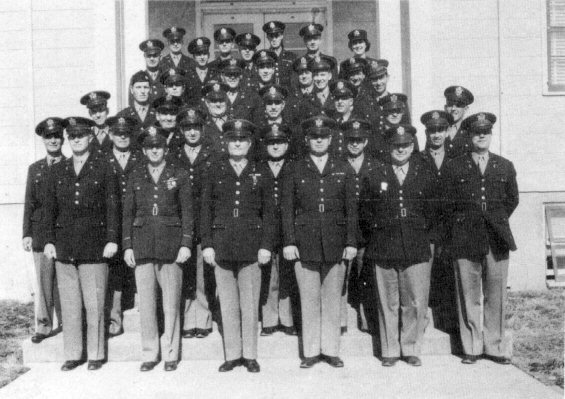 PRESENT MILITARY STAFF
---
| | | |
| --- | --- | --- |
| BHODian | page 32 | April 1945 |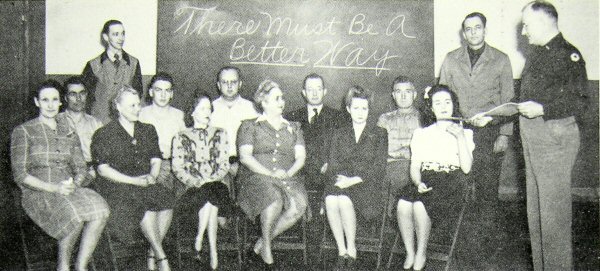 COLONEL KEASLER PRESENTS CERTIFICATES OF EFFICIENCY TO A GROUP OF TRAINEES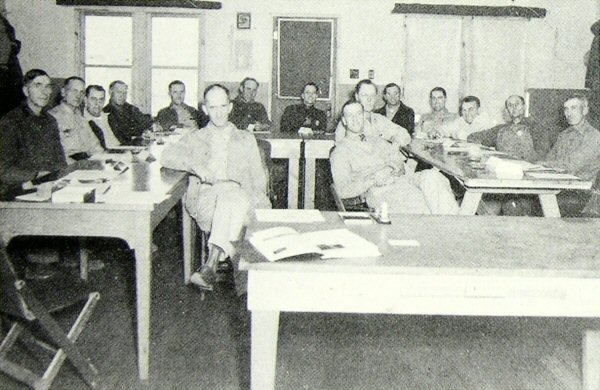 WEEKLY MEETING OF FOREMEN
TRAINING
The War Department has established a comprehensive Training policy which provides training for the development and maintenance of an effective civilian work force, including training for executive management, for supervisors, for job skill, for health and safety, for upgrading, for orientation, for morale and for production efficiency.
The B. H. O. D. Training Branch has assumed the problems outlined in the War Department policy and offers assistance to all divisions, branches and sections where there is a specific need for training.
Civilian Training will not have achieved its full mission until the output of each worker is being used at his highest potential of ability; and until the total production of the installation is beyond improvement in quantity and quality.
BELOW - - A GROUP OF SUPERVISORY TRAINING AND CONFERENCE LEADERS
HAVE COMPLETED CONFERENCE TECHNIQUE TRAINING

---
| | | |
| --- | --- | --- |
| BHODian | page 42 | April 1945 |
Lee E. Johnsonbaugh, Civilian Chief of Personnel, was the first person hired for the Ordnance Department at the Depot and holds Badge No. 2, Badge No. 1 having been given as a courtesy gesture to Major Curtis, our first Commanding Officer.
---
---
| | | |
| --- | --- | --- |
| Walrus | page 5 | Jan. 9, 1953 |
Internal Audit Office Established
A new organization, the Internal Audit Office, has just been added to the Depot Headquarters. The new office will be headed by John Ahern as chief. Space has been allocated on the second foor of the Administration Building between the Civilian Personnel Office and Procurement. Mr. Ahern has been employed by the Army Audit Agency as Resident Auditor.
Functions of the new office will include planning, scheduling, and performing all internal audit functions pertaining to appropriated and non-appropriated fund activities within the depot in connection with those audit responsibilities of the depot commander.
Other chages in the depot headquarters have recently been made, John Sweeney has been named Civilian Executive Assistant to the Commanding Officer. Mr. Sweeney will function as the principal civilian staff advisor to the Commanding Officer. Frank Begert has been promoted to fill the vacancy as Chief of the Management Office, and the entire Management Office has been moved to the south side of the Administration Building on the first floor.
---
---

tested in Internet Explorer 8

tested in Mozilla Firefox 14.0.1

tested in Google Chrome
1920 X 1080 resolution